Insiders
Clifford Chance employees discuss with you
Browse and filter Insiders
11 Insiders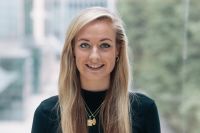 Georgie C.
Graduate Recruitment Specialist
Started as a Welfare & Diversity Officer & ended up in Grad Rec!
Laura D.
Professional Support Lawyer
Professional Support Lawyer (Financial Regulation)
Yasmina K.
Graduate Recruitment Specialist
Meeting interesting, driven and talented people
Anna P.
Associate
Believe in yourself -you are the best advocate for your own strengths!
Dolly H.
Associate (Project Finance)
You have not failed until you stop trying - so keep trying!
Clifford Chance
Clifford Chance is one of the world's pre-eminent law firms. With a global reach and thousands of lawyers working from dozens of offices around the world, we offer expert advice to clients on all aspects of commercial law.

We work with multinationals, governments and regulatory bodies across five continents. Many of our deals are newsworthy. Often they demand the kind of knowledge that only international, cross-practice teams can provide.

Our reputation in the field is formidable. In 2016, we were named number one law firm in the Chambers Global Top 30 for the third year running – one of numerous awards we've won over the years. That's why, organisations turn to us not just for legal expertise but for advice on their most critical business issues.
Visit website